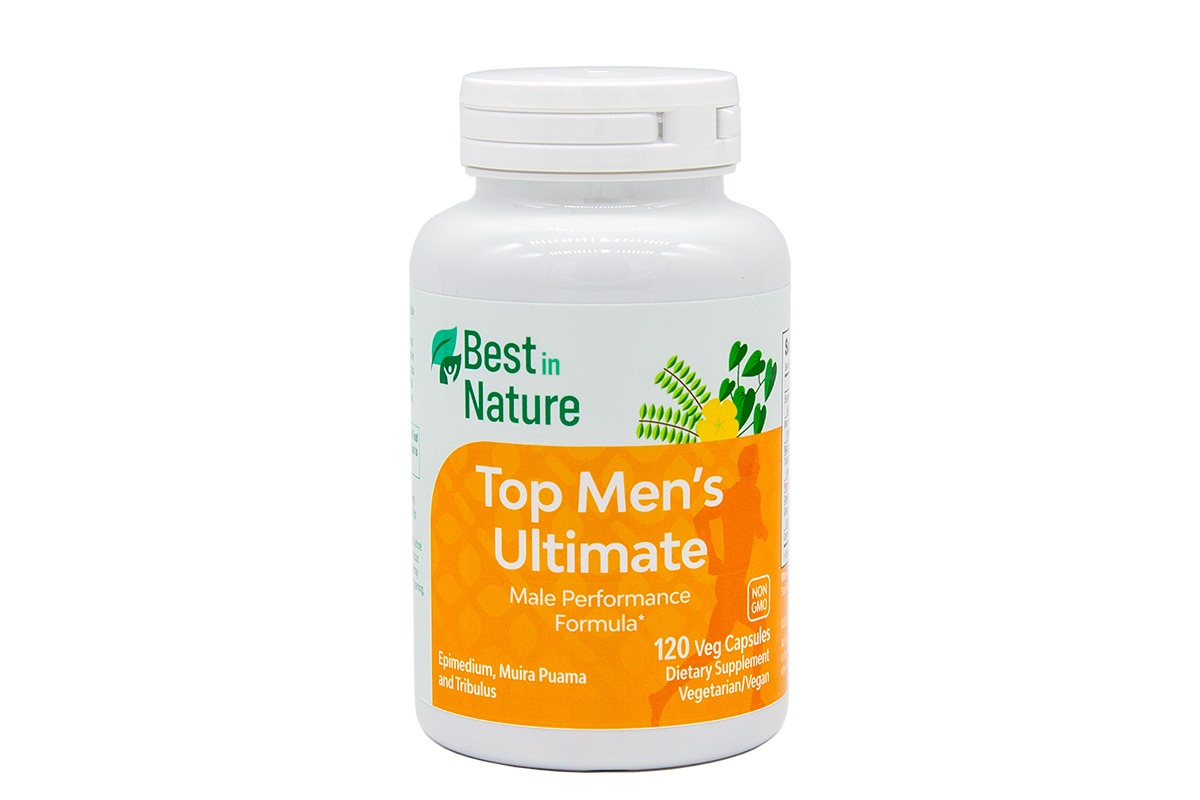 While prescription solutions like Viagra are increasingly popular, many are curious about what their natural options for maintaining virility are.
Historically, there are several foods and herbs that have been shown to help with men's virility. So we took all of these and created our new Top Men's Ultimate formula. Read on for a breakdown of the ingredients and how they may impact mens' sex drive.
1. Epimedium Extract (Horny Goat Weed) 375 mg
The main component of epimedium is Icariin, which inhibits the activity of the PDE5 a compound that blocks dilation of the arteries in the penis. This allows blood to fill the arteries and the three cylinders in the penis resulting in an erection.
2. Muira Puama 100 mg
Muira puama has been traditionally used in Amazon folk medicine. It acts as a nerve stimulant to heighten receptiveness to sexual stimulation. Additionally, it is rich in sterols such as sitosterol, campesterol, and lupeol which activate the body's receptors for hormones like testosterone to heighten libido and potentially enhance performance.
3.Maca 100 mg
Maca is an Andean root and a staple of the Peruvian diet. It is loaded with nutrients including carbohydrates, protein, fats, and dietary fiber. It is also rich in plant sterols and a good source of iron, magnesium, selenium, and calcium. A randomized and placebo-controlled study showed that Maca increases sexual desire while how it does so is still being studied.
4. Tribulus Terrestris 75 mg
Studies have shown Tribulus Terrestris also known as puncture vine may help to increase libido in both men and women. For men, some research has found that consuming 750 - 1500mg of Tribulus increased libido markedly. It should also be noted that Tribulus has a history of being used in eastern medicine for this purpose.
5. Panax Ginseng (Root) 50 mg
Ginseng has a history as a health remedy going all the way back to 96 AD and was even known as "The King of Herbs." Clinical studies on humans and animals have shown that ginseng, particularly panax ginseng, could help with male sexual health, by increasing nitric oxide levels thus improving circulation.
6. Damiana 50 mg
Also known as turnera diffusa, damiana is cited by the National Institute of Health as a potential natural aphrodisiac. It's been used for these purposes since the 19th century and new studies are beginning to support this use.
7. Ginkgo Biloba 30 mg
Ginkgo Biloba may work as a natural vasodilator as it causes the body to release nitric oxide thus helping with circulation. Like some others on this list, Ginkgo Biloba has a long tradition of being used for sexual and other health purposes, but studies seem to support this use with at least one showing improvement in all four phases of the sexual response cycle.
8. Cayenne Pepper 25 mg
Cayenne pepper like most spicy foods has the active compound capsaicin, which provides the sensation of spice, but also may promote improved circulation and stimulate the release of nitric oxide and other vasodilators.
Finally, we're proud to introduce our new Top Men's Ultimate which combines all of these natural ingredients in a convenient easy-to-take capsule.